Our Nine Principles Of Residential Property Management:
At the Grandin Agency, we are not slumlords. We manage well maintained homes and believe quality homes attract quality tenants.


Customer service. It's simple - we answer our phones and promptly return email. We are always in the office during business hours and encourage our owners and tenants to stop by anytime.


We don't believe in a nickel and dime philosophy. Our pricing is clearly listed and we don't deviate. We deliver a premium service and our cost structure reflects that. When the hidden fees and ala carte nature of our competition is considered, we offer an outstanding value.


Grandin doesn't charge our tenants overly aggressive late fees or application fees. This is counterproductive to a good relationship as our main goal is keeping your home occupied!


All rentals are listed on the MLS (Multiple Listing Service). This helps establish comparables for the area also helps confirm your properties income generation potential for loan and appraisal purposes. Additionally, we also list all of our properties on Zillow, Trulia, Realtor.Com, Hotpads, Craigslist, and hundreds of other sites. Your properties WILL get exposure.


Technology - yes please! Our system is completely online. All of your statements, expense reports, and property photos are available 24/7 in your encrypted owner portal. You can inspect our accounting and records anytime. Conversely, the tenants have all of their statements, documents,  maintenance requests, and payment options online as well.


How often do you inspect your properties? We contractually commit to doing a drive by inspection quarterly and interior inspections every six months. Photos taken during the inspections are uploaded and available in your owner portal.


Grandin is familiar with the needs of out of town owners. We can send most documents for purchase and management electronically, do virtual tours, and meet via ZOOM as needed.


All tenants are checked against the terrorist watch list, the FBI's most wanted, criminal databases, and public records. We also search court records (NATIONWIDE) for a history of evictions and judgments. Careful screening helps insure your investment is protected!


Grandin is a fully licensed brokerage employing vetted and experienced Realtors that only deal with investment property. We understand ROI as we are also investors. Don't trust your rental property purchases with someone that doesn't understand the intricacies of this product.
Pricing
At The Grandin Agency, we don't believe in a nickel and dime philosophy. We publish our simple pricing for the whole world to see. No need to call, no need to dicker - here it is.
Single Family Management. 12% of collected rent and a $395 leasing fee. We pay Realtor co-broke fees. No lease renewal fees - nothing. Simply 12% of the rent when a tenant is in the house and a $395 charge to find a new tenant. In the unlikely event that a tenant we place is evicted, we will waive the $395 and find a new tenant at our expense. Discounts are available to investors with multiple properties under management.
Apartment & Multifamily Management. Complete management packages starting at 8%. Contact us today for a confidential ROI analysis.
Commercial and Residential Community Association Management. By proposal.
Manage My Home Please - Info Needed
(540) 404-1184
Certain restriction apply. Inquire for details.
Roanoke Area Information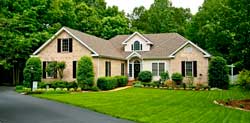 The town first called Big Lick was established in 1852 and chartered in 1874. It was named for a large outcropping of salt which drew the wildlife to the site near the Roanoke River. In 1882 it became the town of Roanoke, and in 1884 it was chartered as the independent city of Roanoke. The name Roanoke is said to have originated from an Algonquian word for shell "money". The name for the river was that used by the Algonquian speakers who lived 300 miles away where the river emptied into the sea near Roanoke Island. The native people who lived near where the city was founded did not speak Algonquian. They spoke Siouan languages, Tutelo and Catawban. There were also Cherokee speakers in that general area who fought with the Catawba people. The city grew frequently through annexation through the middle of the twentieth century. The last annexation was in 1976. The state legislature has since prohibited cities from annexing land from adjacent counties. Roanoke's location in the Blue Ridge Mountains, in the middle of the Roanoke Valley between Maryland and Tennessee, made it the transportation hub of western Virginia and contributed to its rapid growth.
Center in the Square was opened in downtown Roanoke on December 9, 1983 near the city market as part of the city's downtown revitalization effort. The Center, a converted warehouse, houses the History Museum of Western Virginia, which contains exhibits and artifacts related to the area's history and has a library of materials available to scholars and the public. The Center also houses the Science Museum of Western Virginia and the Hopkins Planetarium. The Science Museum maintains a permanent installation of neon sign art featuring the work of local Mark Jamison, the subject of Slash Coleman's PBS special "The Neon Man and Me." Source From Wikipedia